An extremely popular tourist destination with us Brits, Majorca is one of Spain's Balearic Islands situated right in the heart of the georgeous Mediterranean climate.  Majorca is well known for its all-night party lifestyle and luscious beaches, but did you know about its World Heritage Site mountain range or one of the world's largest underground caves? Read on to discover more…
Village of Deià
This small coastal village located on the northern ridge of the island provides a quiet retreat from the hustle and bustle of other popular destinations. With an economy based on agriculture, hand crafts and fine arts, a visit to this village provides a more simplistic, relaxing experience. Take in spectacular views when trekking up Mountain Teix or simply relax and unwind in this beautiful destination.
Serra de Tramuntana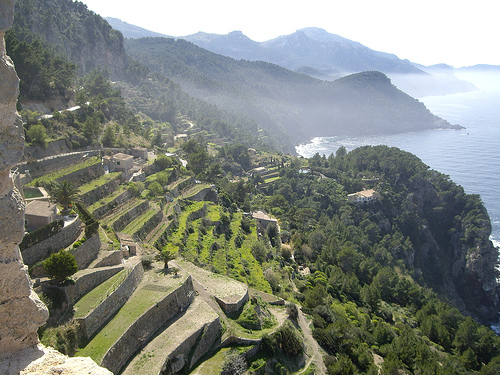 Taking the hiking idea up a notch slightly, we arrive at the Serra de Tramuntana mountain range. This range has achieved the status of a World Heritage Site and it is little wonder why. Much of the landscape across the mountain range is made up of terraces, paths and agriculture where humans have harmoniously integrated with nature which is rather refreshing. Take long, guided walks through the mountains and see why this was the first destination of the first tourists to the island of Majorca.
Cuevas del Drach (Caves of Drach)
If you are venturing over to the east side of the island, make sure you check out the Cuevas del Drach in the town of Porto Cristo. The caves span across an area of over 1200 metres and go as deep as 25 metres! Hidden within these caves is the famous Lake Martel, a lake which is considered one of the largest underground lakes in the world! If you aren't much into exploring, the town of Porto Cristo offers great beaches and markets to spend your time at. But if you are looking for a truly hidden gem, head down to the caves!
Alcudia Old Town
Alcudia Old Town is almost exactly like what you think of when you hear 'Spanish town': small, quirky and full of cultural character. There really is so much to do in Alcudia that it could have a blog on its own. The gorgeous Mediterranean beaches match any others that are out there as well as offering the chance to try out various watersports. Cervecerías or breweries are abundant with reasonably priced beer and cosy beer gardens. Not to mention mountain-biking tracks, tour buses, a waterpark and much, much more!
Bellver Castle
Located just 3km west of Majorca's biggest town, Palma, is Bellver Castle. 'Bellver' meaning 'Beautiful view', this gothic style castle is deep-rooted with history being built as a 14th century royal fortress. It is the only Spanish castle to be built with circular walls and despite its mighty size (and probably because of it), it has never really seen a battle. The castle was used as a prison however up to the Spanish civil war, and graffiti from the various prisoners can still be seen today. With stunning views over Palma as well looking like a fairytale castle amongst the pine trees, this megastructure is not one to be missed!
Have you visited any of these incredible locations? Got any other hidden gems we might have missed? Let us know below or via our Facebook and Twitter pages.
Images via DailyMail, BalearicProperties, BeYouTours, Trip-n-Travel , northsouthguides